One of the exciting additions to the International Gap Year Conference, in Denver, this year was the inaugural presentation of awards. Delighted by the numerous nominations, the conference committee was pleased to present the following awards for Innovation, Research, Accessibility, and Advancing the Movement.
Excellence & Equity in Accessibility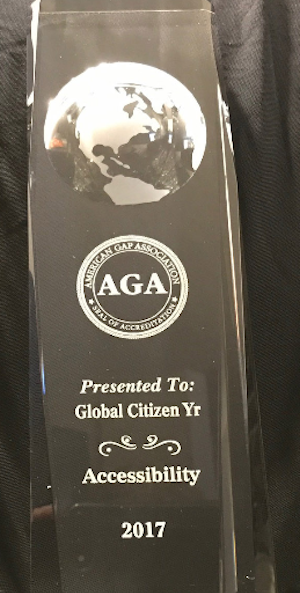 This award is presented to an individual or corporate body that has pushed the boundaries in expanding equity and accessibility in the Gap Year movement, creating greater opportunities for students overcoming obstacles.
Global Citizen Year
Global Citizen Year is actively working to democratize travel and dispel the myth that a Gap Year is "just for rich kids." Recognizing that talent is universal but opportunity is not GCY has built a program that honors that ethos.
To date, 80% of Global Citizen Year Fellows have received some level of need-based financial aid, and 30% have received a fully-funded scholarship. This year alone, Global Citizen Year will provide over $2M in scholarships to low-income participants. Perhaps the most telling statistics regarding the diversity of our their Fellow cohort are that 47% are eligible to receive Pell Grants for college and 45% self-identify as people of color.
Global Citizen Year's commitment to access means the next generation of new leaders will increasingly reflect the diversity of our country.
Karl Haigler Excellence in Gap Year Research Award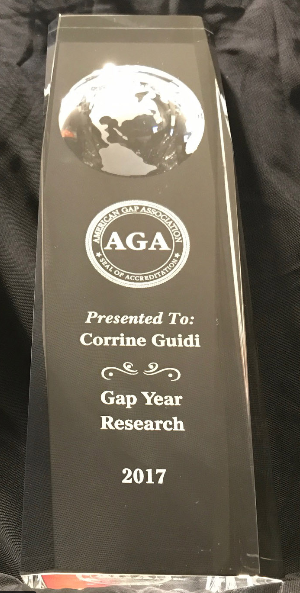 Honoring the long standing work and commitment to research in the Gap Year community, pioneered by Karl Haigler, the first presentation of this award was made by Karl.
Corinne Guidi
Corrinne Guidi is on the AGA Research Committee and has been working through Nina Hoe's National Alumni Survey to draw out more meaningful data. Focusing on a qualitative study on Alumni Student Outcomes, Corinne has been mining through nearly 500 open-ended survey questions, brining to life the words of alumni from the deep well of data.
Corinne's deep work is acknowledged through this reward for taking the NAS data to another level.
Advancing the Gap Year Movement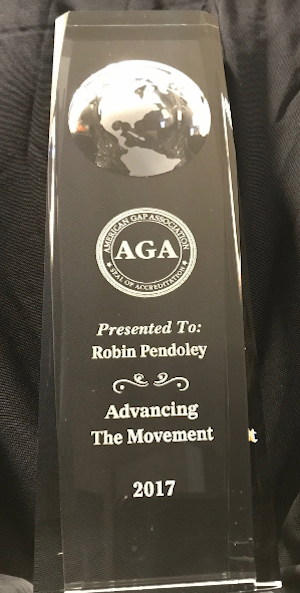 This award is presented to an individual or corporate body who has demonstrated a commitment to advancing the Gap Year movement, from within as well as externally.
Robin Pendoley, Thinking Beyond Borders
Robin has served as co-founder, curriculum director, and now CEO of Thinking Beyond Borders for almost 10 years. During this time he has established TBB as one of the most well-respected Gap Year organizations in the field, all the while lending an important voice to the field as a whole.
As a co-director of the USA Gap Year Fairs for 5 years, Robin helped oversee the expansion of the fairs to the thriving fair circuit and turnout we see today. As a founding board member for AGA, Robin sought to bring his expertise in programming and pedagogy to the standards process, as well as his influence to bring around other members of the industry to the importance of a national accrediting body. Under Robin's leadership, TBB became the first AGA-accredited organization when the process began in 2013.
Robin has played a pivotal role in the Gap Year movement in helping to revolutionize what overseas travel for Gap Year students can be–beyond just service hours and voluntourism–but genuine authentic engagement that seeks to develop the essential skills and capacities students need to lead exceptional social impact careers. An educator first and foremost, Robin has pioneered an educational institution that goes beyond the theoretical confines of traditional education, one that facilitates rigorous learning environments that engage with the world, examine its challenges, and place students alongside leaders who are committed to finding solutions to critical global issues.
Robin continues to provide a thoughtful and reflective voice in the national media, advocating for the value of gap years through his blog series on the transition to college at Psychology Today, the social impact sector at Forbes, and profiling TBB's work in the Harvard Ed School magazine. All of this exposure has one common theme: helping to highlight the legitimate educational value that well-structured and intentional programs can provide to students.
Innovation in Programming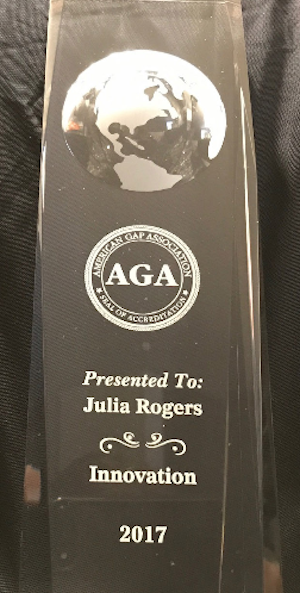 This award is given in recognition of significant innovation in some aspect of programming, recognizing an individual or corporate contribution to thinking outside the box and moving the community forward.
Julia Rogers, En Route Consulting
Julia's relentless commitment to improving outcomes for students and advancing the Gap Year cause is well known within the community. As an IEC who works closely with both students and programs, she has worked hard to overcome obstacles for students and create unique solutions and opportunities for individual success within their Gap Year plans.
This year, Julia pioneered Gap Year Decision Day, May 25, and has rallied community support to further amplify the voices of students and Gap Year advocates on a larger scale.
Congratulations!
A hearty congratulations to all of the recipients of the 2017 AGA Gap Year Awards. Thank you, deeply, for your service and your commitment to the community. Your example sets a high bar for excellence in all aspects of the industry.