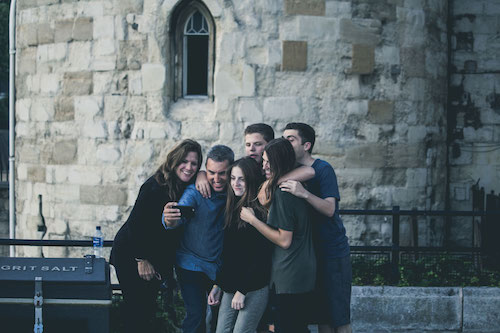 Leaving home to Gap Year for a semester or year is fertile ground for making new friends. Together, you trip and stumble and fall and giggle through the language barriers, conquer unexpected challenges, and actively explore your new sense of freedom. You quickly start to question your lifestyle back home, and get to shed your past and start fresh. You meet people from all different walks of life and challenge your conventional norms. Who wouldn't want to do this hand in hand with a rad person who totally "GETS IT?"
Your bestie from abroad is a special gal/guy, and it'd be a shame to let your tight bond go to waste just because you're in separate time zones. Here are some ideas for keeping in touch with your Gap Year BFF!
Share the mundane details of life
Since your Gap Year BFF is probably on the other side of the country, you will be tempted to limit your conversations to memories of your shared lives and adventures back on the other side of the pond. While it's fun to reminisce, it isn't a great foundation for the growth of a longterm friendship.
Gap Year BFF's Jamie and Grey share: "Our joint love for Ghana was the cornerstone of our friendship, but it was important for us to continue building it beyond that."
When telling stories, use the actual names of your friends and your professors. Talk to him/her about what's really going on. Avoid generalizing or skipping over things because you're busy or think he/she doesn't care. Talk to him/her the same way you would talk to your BFFs at school – about EVERYTHING. He/she deserves to know, and probably wants to, too!
Kick it old school with snail mail and commit to phone dates
Who doesn't just LOVE getting care packages?! Take the time to put a little lovin' in a box/envelope and drop it in your local post box for your gal pal across the country.
While it will be tempting to back out every now and then, avoid falling into a habit of breaking your phone or Skype dates. Texting and snapchatting and giving them a little #TBT shout out every now and then is good and all, but is it enough?
Introduce your @home besties & him/her
We have a hunch that your besties in your hometown or at your university would be huge fans of your new friend, too. Take the time to get everyone involved in the lovefest!
For instance, Jamie's other friend Meredith was pumped when BFF Grey posted a funny photo on him/her Facebook wall.
This step can look as simple as friending one another on social media or following each other on Instagram. Having the groundwork laid pre-tip #4 will only enrich him/her experience being welcomed into your home communities.
Invite your Gap Year BFF for a visit!
Step 1: Think about how AWESOME would it be to show your life back home to your Gap Year bestie?!
Step 2: Invite them over.
Step 3: Nag them until they buy their plane ticket!
Introducing your BFF to your life at school or your life back home will strengthen your relationship. Now, she'll be able to put a face to all those names, totally "get" why you couldn't get over that guy, and better understand why you called the gelato in Italy second-best to your favorite diner ice cream in your hometown.
Gap Year BFFs Madeline and Marley can't wait to reunite in Seattle later this year. "We met while studying abroad and just clicked!" said Madeline,
Marley joked, "It's hard to tell if me or my mom are more excited for him/her visit this summer! ….And I secretly want to set her up with my brother."
Plan your next joint adventure abroad!
Before even leaving the hills of New Zealand, Gap Year BFF's Karinne and Olivia were already scheming ways to return together. A few weeks later they had a full fledged plan to get jobs, save up money, attend community college, and then come back the following spring.
Having a common goal to work towards together and a loving buddy who can hold you accountable to your commitments is a surefire way to keep the travel stoke AND the BFF stoke alive.
Jamie agrees: "Grey and I couldn't wait to get back to Ghana. We did some independent research, contacted a local NGO outside of Accra, booked our plane tickets and returned the following summer. It was amazing, especially to be able to do it with someone who 'gets' me."
—
Did you hit the jackpot or WHAT? Not only did you get to travel abroad and check out life in amazing foreign countries, you also got to share your experience with a new BFF. You lucky thing, you!