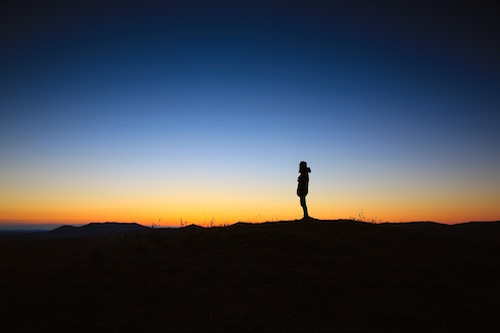 Homesickness might be a new phenomenon for you if you never did the whole sleep-away camp thing in your younger years, but it's inevitable. It'll sneak up on you when you least suspect it: a photo shared online of your friends back home at one of your favorite annual events, a familiar smell of homemade cooking, the softness of a couch. The lack of a couch. Homesickness crops up in all shapes and sizes.
It may be hard to believe (or admit!) but you actually miss your kid brother, you actually miss your mom's Tuna Surprise, and you actually regret not packing blankie for your trip.
But instead of admitting defeat and giving into temptation to scroll back through your Instagram feed or send whiny "I miss you" texts, you can face your homesickness head on. It is perfectly healthy and normal to feel homesick, just don't t let it become a crippling part of your Gap Year.
Ways to Combat Homesickness
There are healthier ways to acknowledge, deal with, and move on from these longings.
Get Involved in New Interests, Clubs, or Adventures
Rather than sitting in your room and isolating yourself, venture outside and connect with new people in new ways. Feign confidence, approach that group of teens playing frisbee, and ask to join. Better yet, ask your contacts if they know of any cool clubs or activities to get involved in. Be proactive in seeking these outlets. They're not only a ton of fun, but they're usually a good distraction (and means for making new friends); the perfect antidote to homesickness.
Call Friends & Family
If your immediate surroundings offer few releases from your hometown-hankerings, don't be afraid to dial up your old standby's for support. Mom and Dad want nothing more than for you to feel happy; after they shake the shock from the late-night phone ringing, they'll be sure to provide those warm-fuzzy feelings that parents have a way of doing. Friends are fair game too, especially those ones who are unwaveringly on your team.
Get a Taste of Home
What can we say – sometimes you just need a cheeseburger or a coffee from Starbucks. Even something as simple as using a credit card can sometimes make home feel less far. Find a way to revisit any activity or food or experience that reminds you of home and can bring comfort. Be warned, though: sometimes your favorite things "abroad" aren't close to the real thing back home, which can end up making you feel doubly homesick
Story time: I had an overbearing longing for delicious Mexican food, so I caved and ordered chips and salsa at a local restaurant. I was given potato chips and ketchup. It was hilarious and also horrible and did nothing to solve my temptations.
Self-Awareness Activities
Now's as good a time as any to start tapping into your inner-self in a mindful way. Practicing yoga, meditation, or self-reflective journaling can provide a healthy outlet for your wistful wanderings. With the internet providing many free resources for classes or guided meditation, the only thing stopping you from enlightenment is wallowing in self-pity or scrolling through your Instagram feed all the way back to your first post.
Physical Fitness
You've never been a "runner" before, and you actually think of it as punishment rather than a pleasant release. But all those endorphins can do you good, and Gap Years are for trying new things anyway, right? Lace up and head out for a spritely jog. No one's telling you to blast your PR with a 5k – start short (5-10 minutes top) and work your way up. It won't be long til you're addicted to the "runner's high" like we are.
Talk to Other Students, or Expats
Relating to individuals who are sharing in your experiences of homesickness will not only make you feel less alone, but will also help you realize you're not going crazy. Your immediate network can be a positive outlet for discussion and support. Joke about the hilarity of your lives and help remind each other of the big picture: short-term discomfort is such a small price to pay for the wonderful memories, clarity, and experiences you will walk away with.
No matter what, DO NOT escape to the internet every time homesickness strikes
Longing for home is natural while studying abroad, some days will feel incredibly challenging, and it seems the only antidote is escaping into laptop for an old fashioned Netflix binge or Snapchat selfie sesh. However, using your computer or smartphone in these circumstances is actually counterproductive and feeds your feelings of homesickness. Be sure to avoid spending hours on end perusing Facebook or your other favorite social media websites.
Tap into your resilience, pull up your big-kid-pants, and don't use the internet as a crutch for comfort. We mean it when we say that seeing so many photos of your friends and family can actually exacerbate your homesickness. The internet can be a helpful tool and communication strategy, but it can also detract from your overall experience and ability to be present. You might feel bored or uncomfortable sitting in the living room with your homestay family now, remember: the shared experiences between the fun are what makes relationships concrete. You need to be there, physically AND mentally, to make good on your gap year goals and soak up the experience for all that it is worth.
Tell Those Voices to Shut Up!
There are a number of ways to quiet down the loud voices in your head reminding you just how far away from home you actually are. Some ways are easier than others (it doesn't help when they're in your back-pocket or always less than 3 ft away from you). But just because it is an easier strategy doesn't mean it is helpful OR healthy #realtalk. Stick to the productive strategies above, and your homesickness will soon transform from a hindrance to yet another amazing Gap Year experience that lead to increased self-awareness.
Photo Credit: lee Scott
Article contributed by: Megan Lee